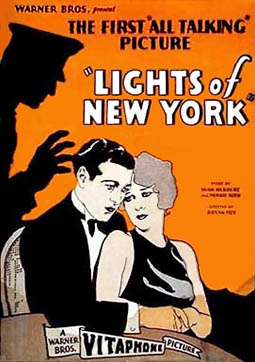 On July 26, 1928 -- eighty-two years ago today -- the first all-talking film, Lights of New York, opened across the country, ushering in the era of sound film and effectively killing the silent movie.*

The film had actually opened in New York at the Strand Theater** on July 6th to lukewarm critical reaction (
The New York Times
called it "crude in the extreme") but strong box office. Made for $23,000, the film ultimately grossed somewhere between $1.25 and $2 million dollars, thus proving that earlier sound films, like
The Jazz Singer
, weren't flukes. (Often billed as the first "talkie,"
The Jazz Singer
has only two scenes of ad-libbed dialogue and the sound of Al Jolson singing; the rest of the film is essentially silent.)


The experimental nature of
Lights of New York
is apparent in its staging: boom mics were not in use, so stationery microphones were hidden throughout the set. The blocking in the film suffers, since characters could only speak when near a microphone, causing odd breaks in the dialogue as people walk from one microphone to another.


The film itself is a standard gangster movie: a rube from upstate comes to the city and ends up being the stooge for a Broadway speakeasy. However, the film had one notable line of dialogue: "Take him for a ride!" that went on to become a gangster cliche.

* By 1929, sound production was taking over and that year is
considered to be the last of the silent era though some directors -- notably
Charlie Chaplin -- would continue to make silent films well in the 1930s.
** The Strand is now gone; it stood on the site now occupied
by the Hershey's store at the northern end of Times Square.