September 7, 2012, would have been the seventy-sixth birthday of rock and roll icon Buddy Holly. Alas, Holly died February 3, 1959, in a tragic plane crash in Clear Lake, Iowa.
On the 50th anniversary of Holly's death, we ran a popular story about his time in New York City, which we are reposting below.
Happy Birthday, Buddy!
* * * *
I can't remember if I cried
When I read about his widowed bride
But something touched me deep inside
The day the music died.
—Don McLean, American Pie
Today, February 3, 2009, marks the 50th anniversary of the "day the music died"—the plane crash in Clear Lake, Iowa, that claimed the lives of Ritchie Valens, the Big Bopper, and rock and roll pioneer Buddy Holly.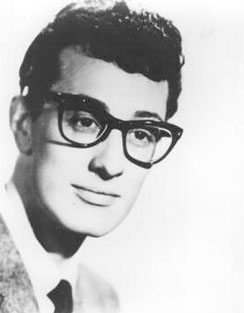 Originally from Lubbock, Texas, Holly was one of the earliest stars to take what was then still being called "race music" and cross over to white audiences. His early hits with the Crickets—including
That'll Be The Day
,
Peggy Sue
,
Oh Boy!
, and
Not Fade Away
—had a profound influence on later acts (including the Beatles and
Bob Dylan
, who were huge fans) and are still some of the greatest rock songs ever written.

Before his untimely death at age 22, Holly had split with the Crickets and moved to New York City to be closer to the New York music scene. He and his new bride, Maria Elena, moved into the Brevoort apartments at 11 Fifth Avenue. What was then a brand-new apartment building had recently replaced the famous Brevoort Hotel, which had at one time been among the city's finest hostelries. (Among other famous events, the Brevoort Hotel was the place where Charles Lindbergh received the $25,000 Orteig Prize for his solo flight across the Atlantic; Orteig was the hotel's owner.)
From print and online sources, it seems unclear if Buddy Holly lived in Apartment 4H or Apartment 3B (though 4H seems to get the nod from more definitive sources). Whichever apartment it was, he set up a home tape recorder and in December 1958 made his final recordings, among them
Crying, Waiting, Hoping
and
Peggy Sue Got Married
. Posthumously released with overdubs and studio trickery, the original tapes have circulated for decades among collectors. They were recently included on the definitive Holly rarities set,
Down the Line
.
When Holly moved in to the Brevoort in 1958, he paid $1,000 a month rent for a corner unit with a wraparound terrace. A two-bedroom apartment in the building (which has been a co-op since 1981) now goes for about
$1.495 million
.
* * *
Read more about Greenwich Village in