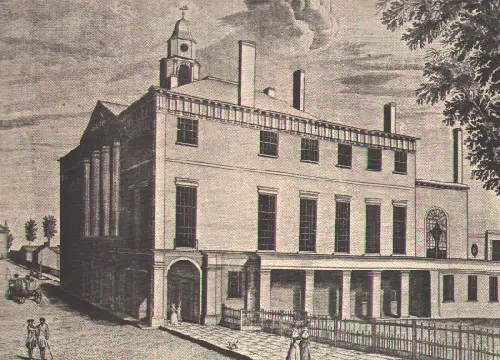 O
n March 4, 1789 -- 221 years ago today -- the first United States Congress convened at the old Federal Hall on Wall Street.
Beginning in 1774, with the gathering of the First Continental Congress, there has been some sort of representative body governing the United States. What makes the Congress of March 4, 1789, important is that it was the first to convene after the ratification of the Constitution,* and thus marks the beginning of modern American governance. The first meeting of Congress had 21 senators (representing 11 states – New York only had one senator until July 1789) and 58 members of the House of Representatives.
As we discuss in
Inside the Apple
, choosing New York as the first (albeit temporary) capital of the fledgling country was not a universally supported move. However, Alexander Hamilton -- who would soon be appointed by George Washington as the nation's first Treasury Secretary and its de facto Prime Minister -- lobbied hard for New York to be the seat of government.

During the 16 months that Congress met in New York, they passed landmark legislation, none bigger than the Bill of Rights. But they also established the U.S. Census, provided laws to protect patents and copyrights, and promulgated the first regulations to allow naturalization of immigrants. One of the last laws Congress passed in New York created Washington, D.C., as a federal district and the new national capital. Since that city would be built from the ground up, the legislators had to find somewhere else to meet in the meantime. While Hamilton would have favored that they remain in New York, Secretary of State Thomas Jefferson successfully persuaded Congress to move the capital to Philadelphia in the interim.

The original Federal Hall, which was at corner of Wall and Nassau streets, no longer stands. In its place is the old Custom House (1842), now called Federal Hall National Memorial. If you are in the Financial District today, stop by; it is free and open to the public.

* In truth, only 11 states had ratified the Constitution: North Carolina
and Rhode Island would both do so during Congress's first session.